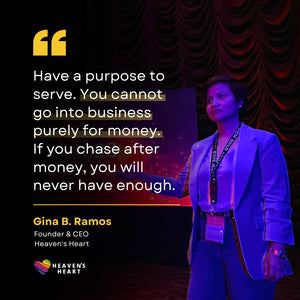 Heaven's Heart: More Than Just a Health & Wellness Store
In a world where material possessions and profit margins often reign supreme, it's refreshing to see a business that prioritizes giving back to those in need.
Heaven's Heart, a health and wellness e-commerce store based in the Philippines, is one such business. With a mission to help less fortunate Filipinos, Heaven's Heart has made donation and civic work integral parts of their operations.
Heaven's Heart was founded with a simple yet powerful vision: to provide Filipinos with access to high-quality health and wellness products, while also giving back to the community.
The company's founder, Gina, being a licensed nutritionist-dietician, had long been passionate about health and wellness, and wanted to share that passion with others. But she also recognized that many Filipinos struggle to afford basic necessities, let alone pricey health supplements or organic foods.
That's where the idea for Heaven's Heart came in. Gina realized that by creating an e-commerce store that sold health and wellness products, she could help bridge the gap between those who have access to these items and those who don't.
And by incorporating donation and civic work into the business model, she could ensure that the less fortunate in the Philippines would benefit as well. The concept behind Heaven's Heart is simple: for every product purchased, a portion of the proceeds goes towards a donation to Operation Blessing Philippines, a non-profit organization who is known to support Filipinos in need.
Customers can also choose to donate directly to these charities through the Heaven's Heart website. In addition, the company regularly hosts civic work events, where employees and volunteers come together to help out in the community.
But Heaven's Heart doesn't just give back in monetary or physical ways. The company is also committed to educating Filipinos about the importance of health and wellness.
Through their blog and social media channels, they share tips on how to live a healthy lifestyle, promote natural and organic products, and encourage physical activity.
One of the ways that Heaven's Heart has made a tangible impact in the lives of Filipinos is through their partnership with a local non-profit organization that provides free healthcare services to underserved communities.
With the proceeds from product sales and customer donations, Heaven's Heart has been able to co-sponsor several medical missions, providing free check-ups, medicine, and treatment to those who otherwise wouldn't have access to healthcare.
Another way that Heaven's Heart has given back is through their support of local farmers and small businesses.
All of the products sold on the website are sourced from Filipino farmers and entrepreneurs, helping to promote sustainability and economic growth in the country.
For Gina and the Heaven's Heart team, giving back is more than just a marketing strategy or a feel-good initiative. It's a core part of their values and identity as a business.
They believe that every Filipino should have access to basic necessities like healthcare and healthy food, and that businesses have a responsibility to contribute to the greater good.
In a country where poverty and inequality are pervasive, companies like Heaven's Heart are a shining example of how businesses can make a positive impact.
By prioritizing donation and civic work, Heaven's Heart is not only helping less fortunate Filipinos, but also promoting a culture of giving and compassion.
So the next time you're in the market for health and wellness products, consider shopping at Heaven's Heart.
Not only will you be taking care of your own health, but you'll also be making a meaningful contribution to the lives of others.
And who knows, you might just inspire other businesses to follow suit and make giving back a core part of their operations too.
---